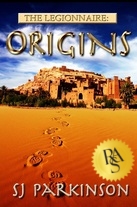 As a few of you know, I was born in the UK. My family left there in 1970 so my father could take a new job. Even though there was a separation, we always maintained close ties with family back home. The last few weeks have been seen some serious encouragement coming from the "other side of the pond". First, I get more email from fans in the UK than any other country. Predation, in particular, has stuck a chord and reception to that novel in the UK has been wonderful.
I have been invited to be interviewed by a London based book blogger, so keep an eye open for that in the next month or so. I would like to explore more blog reviewers in the near future so please get in touch if you are interested.
I also had a very nice email from a lady in Tufnell Park, thanking me for setting a portion of The Legionnaire: Origins there. She said my descriptions were dead on and from that she could tell I knew the area. Thank you Liz.
To answer a few questions, yes, there will be a book three for the Legionnaire series. It is already being written and roughly a quarter done. Given the time spent on past projects, I think it will be October or November before it is out on the market. My goal is to get it out before Christmas.
Once the Legionnaire trilogy is finished, there will also be more science fiction books produced. I currently have five sci-fi projects pending and hope to get a couple out soon. I am not prepared to release titles or descriptions yet, but stay tuned.
Have a great week and thank you for the support.